Most visitors to New York arrive keen to sample the city's culinary delights, but while pretzels, bagels and jumbo deli sandwiches figure highly on many tourists' food shopping lists, the egg cream is as foreign to foreigners as the Mets' all-time roster.
As intrinsically linked to New York as the humble hot dog, the egg cream has origins that are as hazy as a humid Manhattan afternoon in July. The drink probably originated in the late 19th century, and before long had become for many New Yorkers the quintessential mid-century refreshment. One of the city's favorite rock 'n' roll sons even penned this nostalgic ode to the drink.
The egg cream's popularity may have waned in recent years due to its being a classic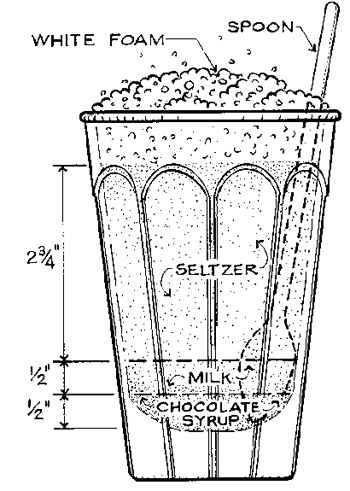 misnomer. Containing neither eggs nor cream, this sweet and frothy concoction is made solely of icy chilled milk, seltzer water and chocolate syrup (preferably in that order, although there are various schools of thought as to its proper preparation). Offering both the sweet taste of a good shake and the cool perfection of a cold soda, the egg cream is the perfect summertime quencher.
Having observed the rapid and at times unceremonious demise of some of Manhattan's cultural heritage, I considered this an opportune moment to pay a visit to some of the city's most beloved institutions — the diners, coffee shops and luncheonettes of yore – while they're still around. With traditional soda fountain drinks currently being refashioned by so-called artisans for the hipster generation, I saw no better time to seek out the real deal. Thus began a nomadic odyssey in search of Manhattan's finest egg creams, a citywide journey which took me to a bygone world of swivel stools, Formica countertops and gruff middle-aged men in short-sleeved shirts. If my research tells me anything, it's that even in 2012, the timeworn tradition of the egg cream is alive and well. After all, no one's going to write a song about the iced soy latte. (Let's hope.)
___________
XXX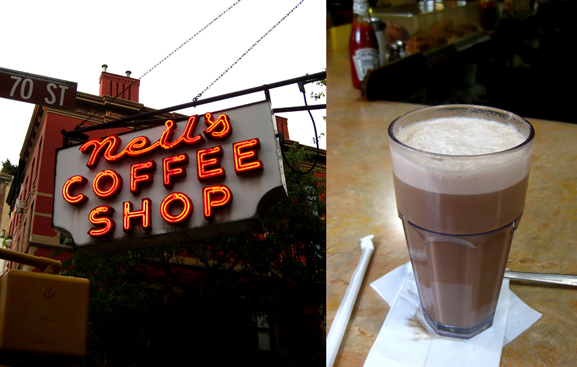 1. Neil's Coffee Shop
Classic coffee shops continue to proliferate the Upper East Side — where those hip downtown kids rarely venture. One of the best is Neil's, on a leafy stretch of Lexington Avenue. The afternoon crowd is dominated by school children fresh out of class, several of whom stared longingly at my near-perfect egg cream. Expertly mixed with a frothy head, served in a real glass and setting me back just two bucks, Neil's egg cream is as good as it gets. (Lexington Avenue and 70th Street – 212-628-7474)
_____________________________
XXX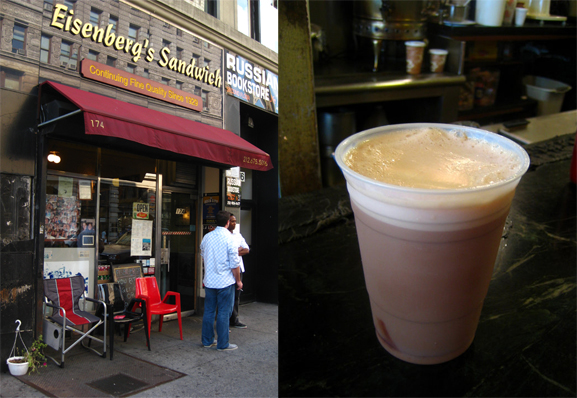 2. Eisenberg's Sandwich Shop
From its hardly welcoming sandwich board out front ("you either get it or you don't") to the fast-paced repartee of its staff, Eisenberg's is arguably the quintessential Manhattan lunch stop. This place has been serving the Flatiron work crowd since 1929; today owner Josh Konecky maintains its no-frills, "no wraps" vibe. The wall of fame is cluttered with photographs of a variety of New York-based actors (including one of Jeff Goldblum working the grill). Its proximity to my workplace means in warmer months Eisenberg's is my go-to destination for a mid-afternoon egg cream. With a froth so dense that peaks almost form, the egg cream is best paired with their exceptional tuna melt.
(Fifth Avenue between 22nd and 23rd streets – 212-675-5096)
_____________________________
XXX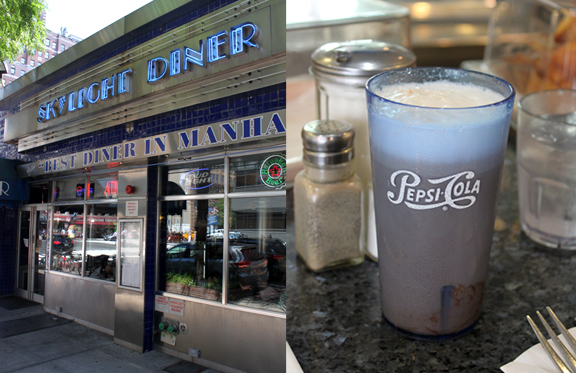 3. Skylight Diner
On a block that once sang to the tune of buzzing neon (the Cheyenne Diner was once around the corner), this Hell's Kitchen hold-out is everything you want in a diner, despite its relative youth (it's been operated by the current owners since 1996). Lousy neighborhood, nice chrome, friendly banter and a tasty egg cream (in a Pepsi-Cola cup), even the sign on the Skylight's exterior sign reads "Best Diner in Manhattan." It's hard to argue. (34th Street  and Ninth Avenue – 212-244-0395)
_____________________________
XXX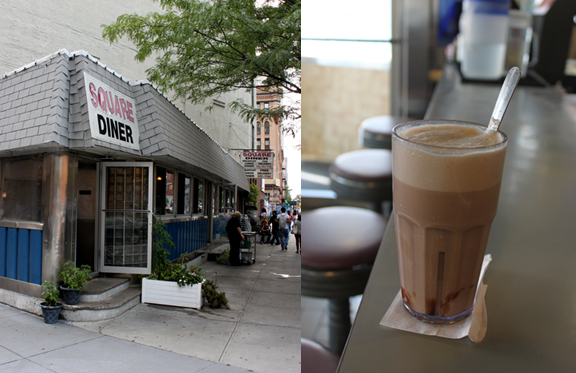 4. Square Diner 
The oddly shaped Square Diner at Leonard and Varick has been under the same owner since 1971, and you can tell. This Tribeca hideaway is the real deal: wood paneling, cubed glass, chrome window panels, the obligatory signed photos. The egg cream won't win any awards — which is what makes it so perfect. (Leonard Street between Hudson Street and West Broadway – 212-925-7188)
_____________________________
XXX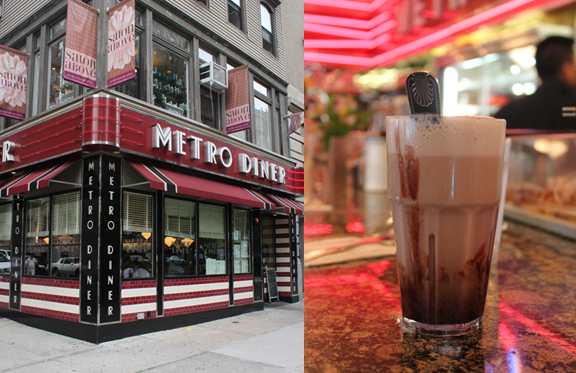 5. Metro Diner
With its Deco lamps, Venetian blinds, leatherette booths and teardrop-shaped corner tables, the Metro Diner is arguably the most visually perfect New York diner I've had the pleasure of setting foot in. The egg cream is rendered all the more perfect by the glow of pink neon strips reflected in its foam. I didn't want to leave. (Broadway and 100th Street 212-866-0800)
_____________________________
James is a freelance graphic designer, writer, and photographer based in New York. His work includes logos and brand identity, posters, cards, events, advertisements, invitations, marketing collateral, product and packaging, web design, email marketing and social media. For more on James -- and the full list of New York City's egg creams -- please visit www.jamescampbelltaylor.com